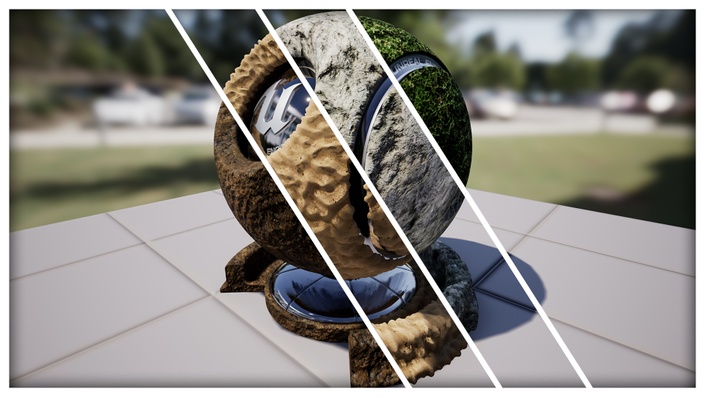 Assets - Master Control Material by CP3DMedia
Create fast, easy, and beautiful looking Materials in seconds
Watch Promo
The "Master Control Material" will allow users to create fast, easy, and beautiful looking Materials in seconds. Materials will scale with its users needs whether simple or complex. Whether Basic Inputs or layered normals / roughness with noise generation, emissive masking, and more this will take care of it. Low performance impact with use ONLY what you need approach.
For more information you can check out the simple setup guide and also the video showcase.

Technical Details:
Easy To use Design
Use what you need performance design
Scaling Complexity
Optimal Texture Usage
Combination Map support*
Each Material has:
UV Tiling Management
UV Panning Management
Diffuse Control w/ Tinting option
Merge Map with channel selectors
Control Map with channel selectors
Opacity Masking w/ Control [Optional]
Emissive masking w/ tinting option [Optional]
Detail Overlays Normal/Roughness [Optional]
Noise Generation [Optional]
Displacement [Optional]
Tessellation [Optional]
Top Coat Layer [Plus Only, Optional]
Number of Materials: 61 [3 Master Material (Basic/Standard/Plus), 27 Material Examples, 31 Feature Examples]
Number of Material Functions: 8
Material Examples + Textures included.
Texture Resolutions: 1024x1024 [All textures]
Developer Note: Engine Version 4.9.2+ Supported
Frequently Asked Questions
How do I download the assets?
The assets are supplied as one or more .zip file. Instructions on how to un-zip and combine these are included in the Curriculum.
Do you have permission to use these assets commercially in games or other projects?
Absolutely, by purchasing this asset pack you have permission to use it in your game or other project and to sell that game or project for money. You DO NOT have permission to resell these assets as stand alone art assets.