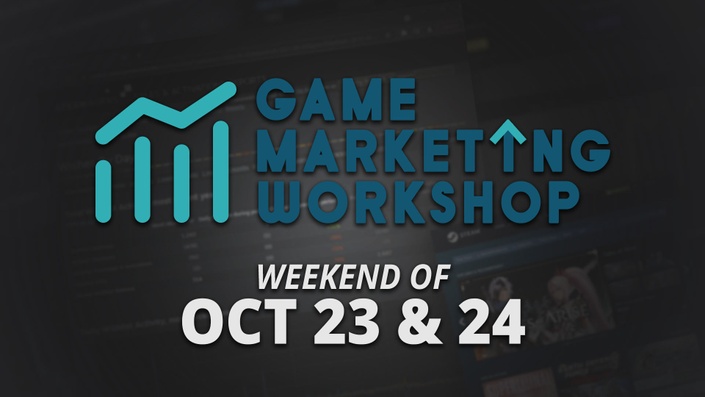 Game Marketing Workshop - 2-Day Online Event Ticket | Oct 23 & 24
Tools, Training & Tactics To Make Your First $1,000 On Steam.
BUY TICKET NOW
No matter your skill level...
You'll learn the zero-to-launch essentials of marketing a game on Steam.
Learn everything you've ever wanted to know about how to market and launch your indie game in this online only event! And surround yourself with developers on the same path while you're at it.

Meet Your Marketing Wizards
Rick Davidson
Rick has been in the games industry for more than 15 years, founding and selling his indie game studio as well as working in AAA studios. Rick has taught game development to more than 1 million students.
Tim Ruswick
Tim Built and sold a marketing company in 2015, he's launched and sold games on Steam and other platforms, and he's helped hundreds of thousands of game developers with their marketing on YouTube.
You have questions. We have answers.
Get the ACTUAL emails used to get YouTubers with MILLIONS of subscribers to play indie games.

Learn the Tools and Tactics Used by some of the most popular indie games To Sell Millions Of Copies.

Discover PROVEN METHODS to find (and sell to) your target audience.

Get Real Time Feedback On Your Existing Game Ideas or Projects To Help Your Game Sell Better.

Find Out Why It's Easier Than Ever To Build An Audience And How To Build One

Learn Why You Should NEVER Use Paid Ads And What To Do Instead

Find Out The Tactics To Get Your Game Covered WITHOUT A Huge Time Or Money Investment
Our Topic: What's Working In 2021.
Why do extra work when you could be selling more games? Through our tested techniques, we'll help you find clarity in what you need to build and launch your indie game.
01

The Latest & Greatest Indie Success
What tools and tactics worked for successful indie games THIS YEAR, why they made an impact, and the ACTUAL metrics to measure for the same results.
02

Designing A Game To Sell Itself
We'll go over designs that successfully sold themselves, and how you can implement those same ideas into your own projects.
03

The "Give A Damn" Technique
How to get players and press to ACTUALLY pay attention and care about your game and give it coverage.
04

Viral GIF Design
How to create and design a 5 second GIF (and where to upload it!) that stands out and makes players say "WOW"!
05

Getting YouTubers & Press To Pay Attention
How to build hype and get players WITHOUT being annoying or spending YEARS posting about your dinner on twitter.
06

Building A Steam Page That SELLS
How to design, write, and build a Steam page that sends you sales, and excites players about your game.
All Tickets Include:
An All-Access Pass To The Online Event, Access To The Event Recordings Afterwards, PLUS:


BONUS:
The Reddit Gif Launch Formula
The proven software, technique, and method to build a GIF, edit it beautifully, and launch it virally.


BONUS:
The YouTuber Contact Swipefile
The ACTUAL Emails, Subject Lines, and Strategy PROVEN to Get YouTubers with 100,000+ Subscribers to Cover Your Game.
Frequently Asked Questions
Is This An Online Only Event?
This event is online only, and will not be held in a physical location.
How Do I Attend The Event?
At the time of the event, online meeting details will be provided to you via email and our online portal.
I Don't Have A Finished A Game. Is This Event For Me?
Yes! Marketing can happen at any time of development. But the earlier you start learning and applying the latest marketing tactics, the better.
I'm Making A Mobile Game. Is This Event For Me?
This event is heavily focused on PC games and Steam. Many of the concepts are general concepts and do carry over very well to other platforms, genres, and event products. But this event is very geared toward the specific things you need for marketing a game on Steam. While it might be useful for you, it may not be as specific as you need for mobile marketing.
Can I Watch Recordings if I Miss A Portion?
Yes! Although this is a live event and attendance is recommended, we know that sometimes life happens. Every ticket comes with a copy of the recordings for the event for you to keep.
Why Not A Course?
Here at GameDev.tv we love courses! But the content and information for this event is best suited to a live audience. It also lets us give hands-on help with projects and ideas in real time.
Is My Ticket Refundable?
All tickets are 100% refundable within 30 days of the event. If you'd like to get a refund for your ticket(s) within 30 days of the event, we may have individuals on a ticket waiting list, so feel free to reach out. To request a refund, please contact our support team.