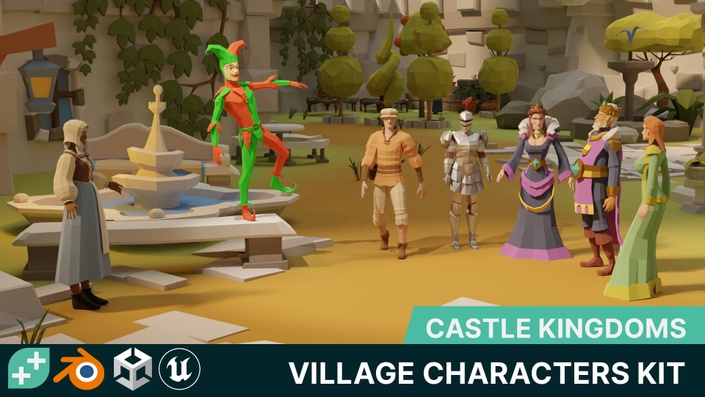 Castle Kingdoms - Village Characters Kit
Grab these 22 Different Low Poly Village Character Assets today!
Watch Promo
Reaming of bringing a bustling medieval world to life? Introducing the Village Characters, part of the Castle Kingdoms Megapack. Whether it's a regal parade with the King and Queen or the daily hustle-bustle of jesters and villagers, this pack is your ticket to creating a realm teeming with life and stories.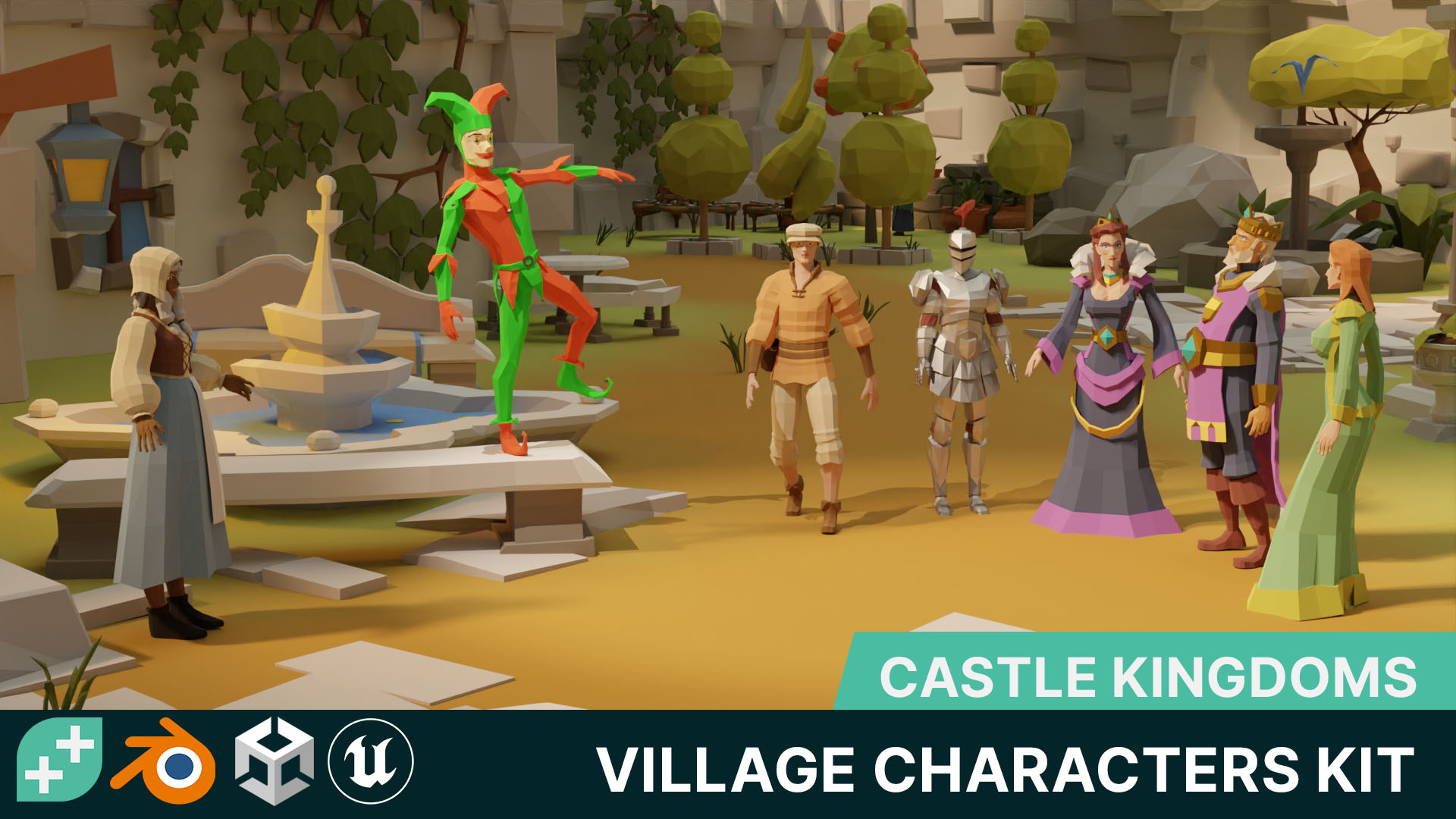 Feast your eyes on the treasures within:
22 Majestic Characters: From the nobility like the King and Queen to the heart of the village with knights, jesters, and everyday folks.
49 Royal Weapons & Props: Because a knight's got to have their trusty sword!
8 Detailed Character Meshes: Crafted with care for that authentic medieval feel.
16 Weapon Meshes: Because variety is the spice of... well, combat.
Flat-Colored Characters: Giving you a clean slate to customize or style as you wish.
6 Rich Textures: Just the right touch to make each character stand out.
2 Versatile Materials: Perfectly tailored for that medieval charm.
71 Detailed FBX Files: Giving you the flexibility you need in design.
71 Unity Prefabs: Packed neatly in a BiRP, URP, and HDRP Unity package for easy integration.
.Blend File: For all our Blender aficionados out there.
Unreal Project: Yep, we've got the Unreal creators covered too!
Universal Asset License: For any game project, in any game engine, with full hobby or commercial usage rights.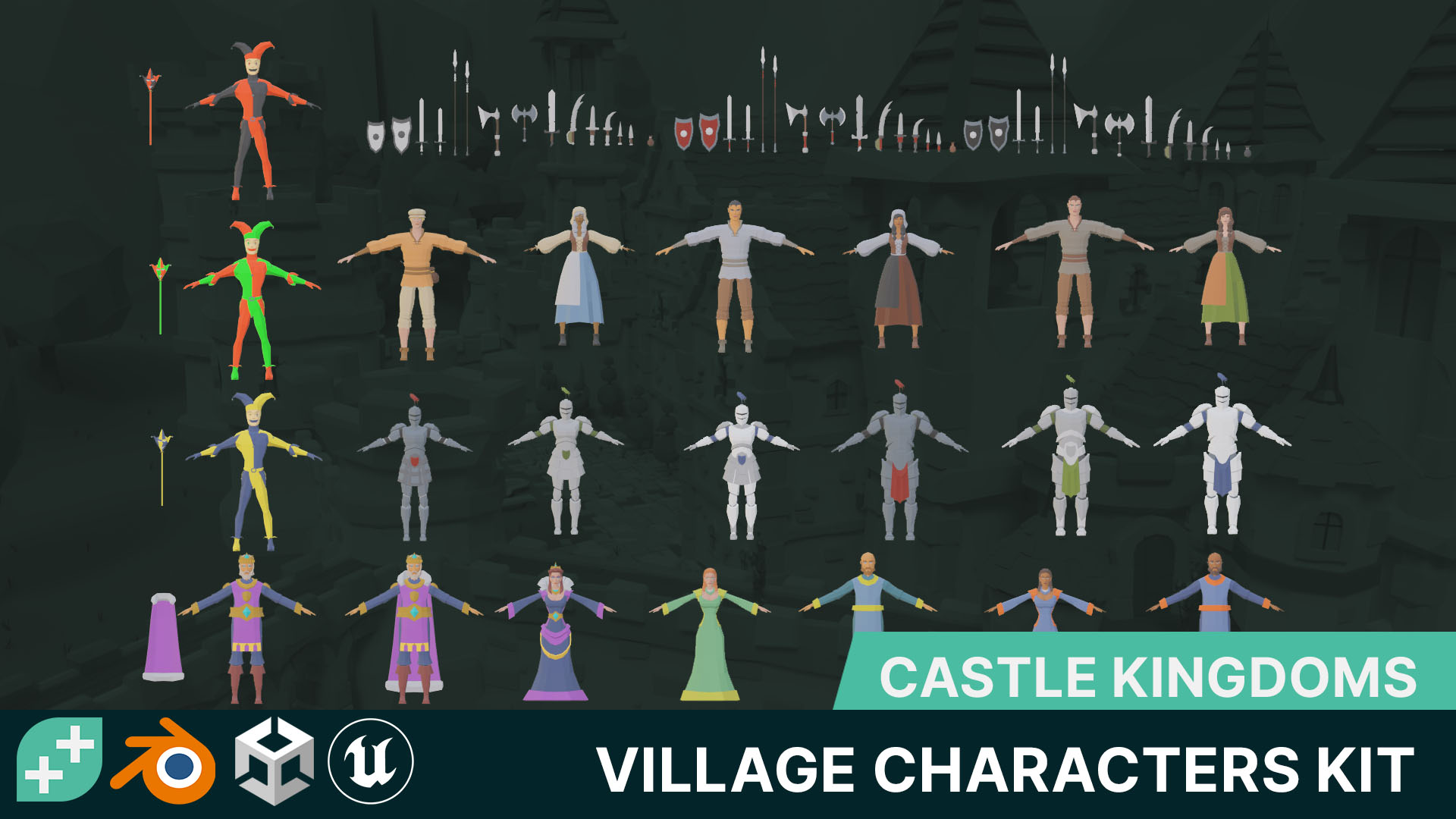 Why this is your go-to pack for a medieval masterpiece:
Diverse Cast: A wide range of characters to populate your kingdom.
Game-Ready: Tailored for a seamless experience in both Unity and Unreal.
High-Quality Assets: Meticulously crafted for authenticity and charm.
Perfect Add-On: A splendid addition to the larger Castle Megapack bundle.
So, aspiring monarch of game design, are you ready to assemble your court and villagers? Grab these villagers and breathe life into your medieval fantasies. Don your crown and start your reign in game development today! 🏰👑🎮