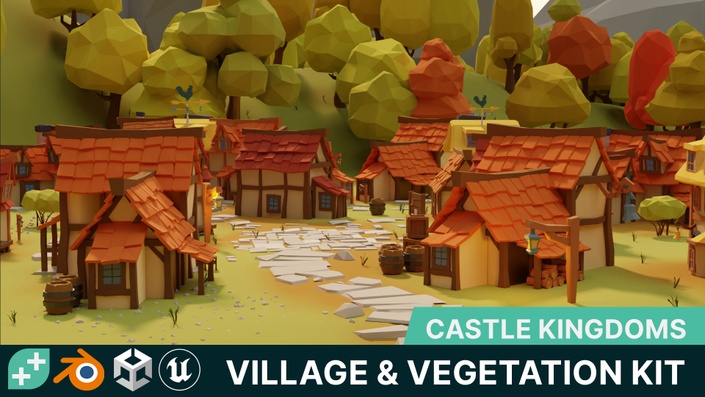 Castle Kingdoms - Village and Vegetation Kit
Grab these 136 Different Low Poly Buildings, Environment, and Greenery Assets today!
Watch Promo
Picture a quaint village, nestled by a majestic castle, where cobbled paths wind through timber-framed houses and leafy trees cast dappled shadows. The chirps of birds, the hum of village life, and the rustle of leaves all blend into a harmonious tapestry. Dreamy, right? Let's turn that dream into pixels and polygons with the Village and Vegetation Kit, part of the Castle Kingdoms Megapack.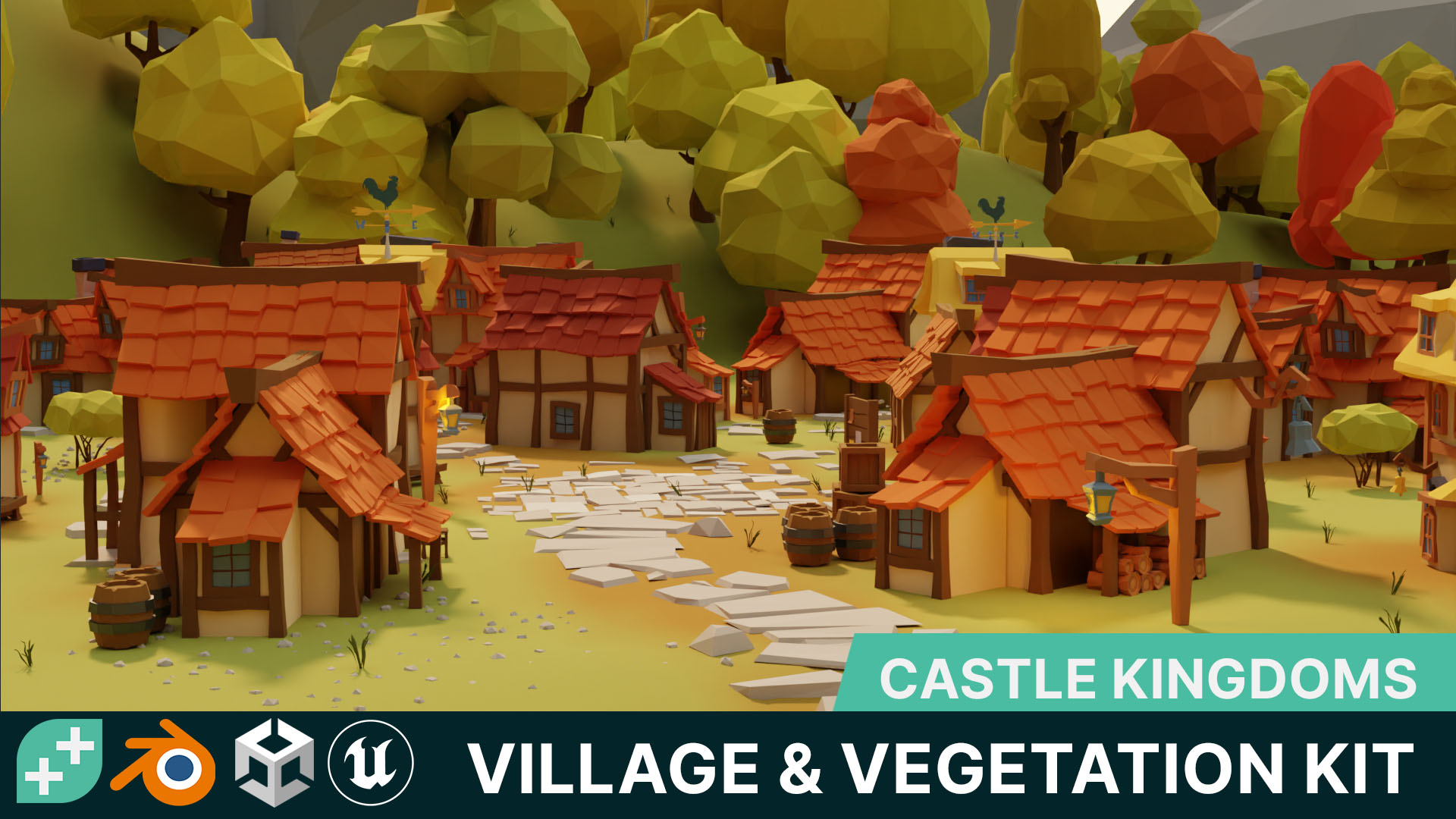 Unbox this medieval treasure chest and discover:
42 Robust Buildings & Building Parts: Craft every nook and corner of a village, from sprawling inns to cozy cottages.
16 Detailed Environment Objects: Because every village needs its well, wagon, and more!
78 Lush Vegetation Objects: Trees that touch the sky, stumps that tell tales, and rocks that have seen centuries pass.
3 Rich Textures & 2 Materials: Paint your village in authentic medieval shades.
136 Precision-Crafted FBX Files & 136 Unity Prefabs: Assemble your village with ease and perfection.
Unity Layout Scene: A little nudge for your boundless imagination.
.Blend File: Blend in some magic to your design.
Unreal Project: Because the magic is real, and it's Unreal.
Universal Asset License: For any game project, in any game engine, with full hobby or commercial usage rights.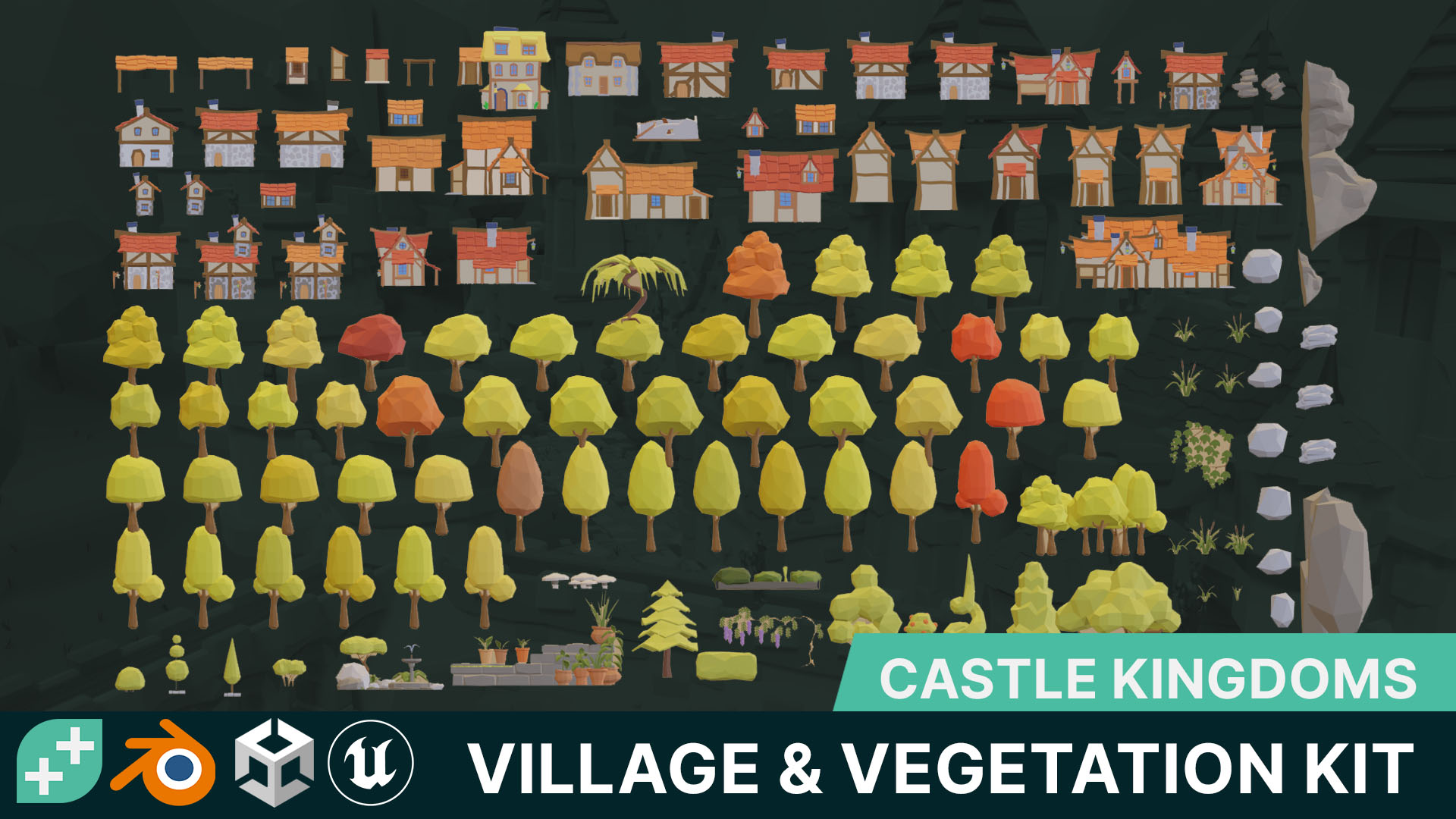 Why this kit is your medieval masterpiece's secret ingredient:
Comprehensive Collection: From the tallest tower to the tiniest twig, we've got you covered.
Game-Ready: Seamless integration into Unity and Unreal for a hassle-free design experience.
Superior Quality Assets: Making sure your village isn't just another place but a breathing, living realm.
Perfect Fit with the Megapack: A seamless addition to the expansive Castle Kingdoms Megapack universe.
Ready to weave stories in stone and wood? To create tales where every leaf has lore and every house a history? The Castle Kingdoms Megapack: Village and Vegetation Kit is your quill. Time to script your medieval saga! 🍂🏰🎮