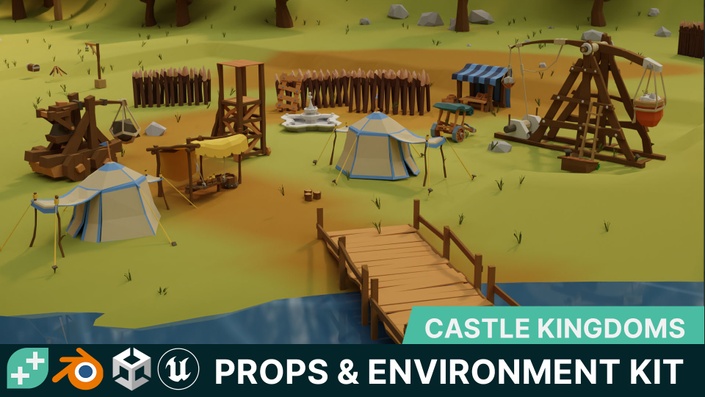 Castle Kingdoms - Props & Environment Kit
Grab these 212 Different Low Poly Environment, Furniture, and Medieval World Assets today!
Watch Promo
Reaming of crafting a medieval kingdom that resonates with tales of yore? Look no further! Introducing the Props & Environment Kit, part of the expansive Castle Kingdoms Megapack. From the hustle-bustle of market stalls to quiet corners adorned with banners, this kit has every nook and cranny of a medieval kingdom covered.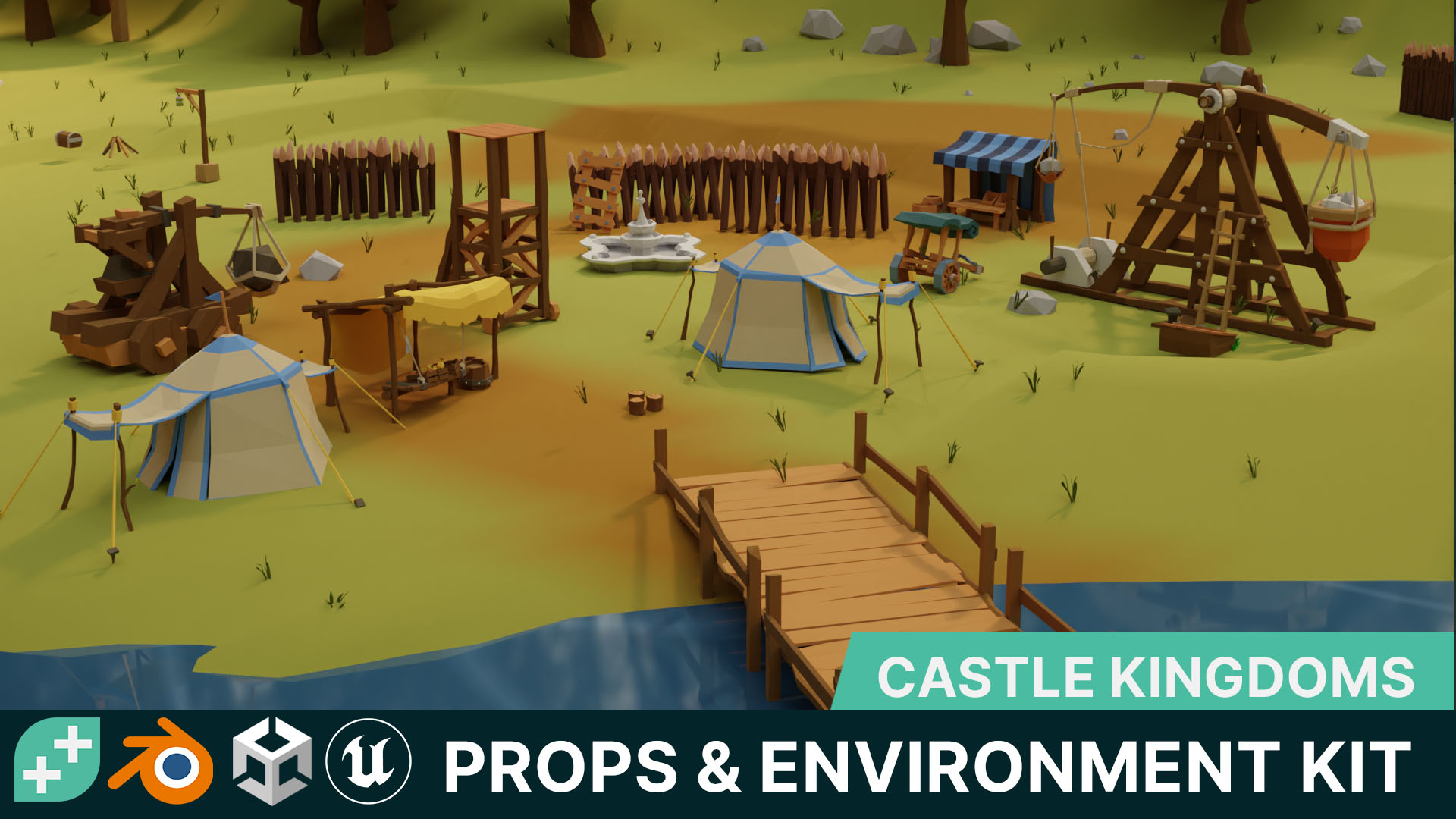 Inside this royal treasure trove:
21 Majestic Buildings & Parts: Craft an imposing fortress or a cozy cottage, and everything in between.
65 Enchanting Environment Objects: Bridges over serene waters, market stalls teeming with goods, and so much more.
47 Regal Furniture Pieces: From the sturdiest tables of the king's court to the coziest chairs by the fireplace.
49 Immersive Props & World Objects: Banners that flutter, chests that guard secrets, and all the bits and bobs of a thriving kingdom.
30 Lush Vegetation Objects: Trees, shrubs, and flora to breathe life into your castle grounds.
3 Authentic Textures & 2 Materials: Just what you need to give each asset the right feel.
212 Detailed FBX Files & 212 Unity Prefabs: Crafted with love, ensuring you have everything you need to create.
Unity Layout Scene: Inspiration or a starting point, take your pick!
.Blend File: Blender lovers, we've got your back.
Unreal Project: Because we believe in epic castle tales.
Universal Asset License: For any game project, in any game engine, with full hobby or commercial usage rights.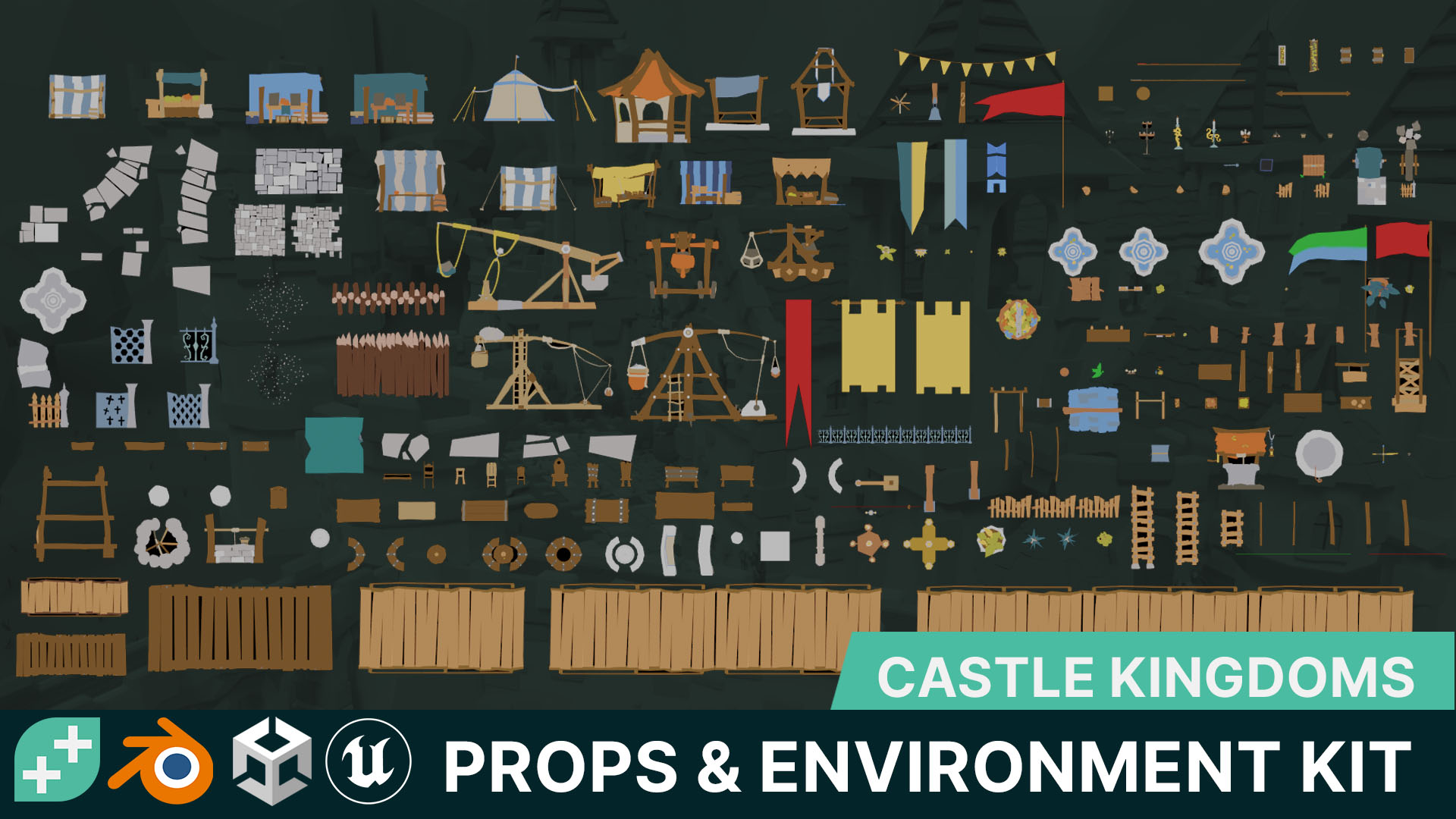 Why this kit is the crown jewel of your game design:
Complete Kingdom Palette: Everything from the grandest hall to the smallest spoon.
Game-Ready: Precision-optimized for both Unity and Unreal.
High-Quality Assets: Meticulously designed for authenticity and immersion.
Expansion Ready: Perfectly complements the larger Castle Kingdoms Megapack.
Castle creator, it's time to don your builder's hat and weave a world of chivalry, intrigue, and splendor. With the Castle Kingdoms Props & Environment Kit, your virtual medieval masterpiece awaits. Ready, set, build! 🛡️🪓🎮